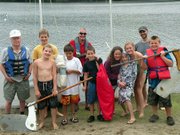 Minerva — It's around 1:30 p.m. Tuesday, August 9, and you're at beautiful Minerva Lake on a sunny and warm day, with a light breeze. You wander along the beach and find yourself gazing out over the water. There they are — three small sailboats, each one cruising over the water with sails slightly billowed. There's a feeling of competition in the air related to these boats, and you realize: the Minerva Youth Program Sailboat Regatta is taking place before your eyes!
The regatta was held with light yet steady southwest to southeast winds. Three small yachts answered the starting flag: Freginald with Cassie Pratt as captain, Sierra Galusha and Kate Wimberly as crew, and Gus Stewart as advisor; La Nota with Jon Ordway as captain and Jonathan Stark as crew; and Dally with Kaleb Davie as captain, Andrew Piper and Liam Halloran as crew, and Ron Bruce as advisor. Mike Corey and Matt Gavin operated the rescue boat.
Freginald was ahead at the start, but Dally reached the first marker buoy with the lead and held on during the downwind leg to the second buoy. Taking a starboard tack, Dally hit calm waters while Freginald took a port tack to the western shore, then came about to center lake and jumped ahead to win with a time of 17 minutes, 56 seconds. Dally was second with a time of 20 minutes even. LaNota came in third with a time of 27 minutes, 53 seconds.
Friday, August 12 was the last day of the Minerva Youth Program for the 2011 season, and it was also the day ribbons were awarded to the sailboat crews for first, second, and third place.
Recognitions awarded were:
Rigging: Crew of LaNota, first place; Crew of Dally, second place; Crew of Freginal, third place.
Attendance: Kaleb Davie and Sierra Galusha.
(Continued on Next Page)
Prev Next
Vote on this Story by clicking on the Icon