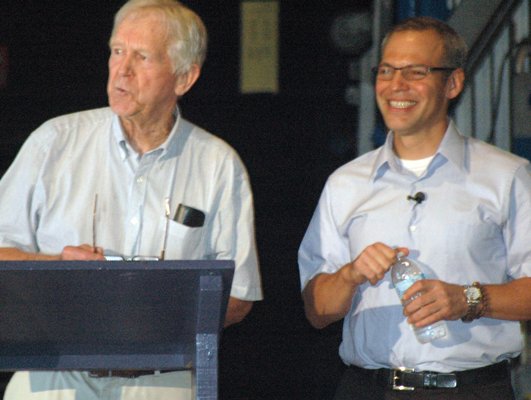 Westport — When he was a camper at Camp Dudley, Ted Zoli said that he never got to be a part of the, "big show," in the Witherbee Auditorium at the end of each year.
On Sunday, Aug. 21, his time came, as the designer of the new Champlain Bridge was the center of attention in that theatre as part of the Literacy Volunteers author discussion fundraiser.
"I finally made it in here," he joked to the assembled audience in the auditorium as he began his remarks. "It's a great honor to be allowed to design such a bridge here in the Adirondacks."
Zoli said that he felt that the original Champlain Bridge, designed by Charles M. Spofford, was one of the two dozen most important bridges in the nation.
"This is one of them," Zoli said, adding that he was hopeful when he was brought on during the decision phase of what to do with the original bridge that they could save it.
"My heart was set on a rehabilitation strategy because of how important the bridge was because of its visual and structural importance," Zoli said.
However, Zoli said that as they looked at the evidence, the only conclusion that could be made was the demolition of the former bridge and the design and building of the new one.
Zoli said that in designing bridges, most tried to "borrow" from the past while adding innovation to the designs, as was the case with the new Champlain Bridge, adding that he had never seen as much public involvement with a bridge design process as he had with this.
"I have done a number of bridges, and the level of public input and involvement that we saw on this project is unprecedented," he said. "When it came to the design and choice, a process that usually takes four or five years took a week."
(Continued on Next Page)
Prev Next
Vote on this Story by clicking on the Icon