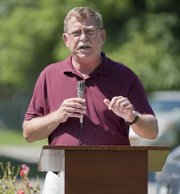 Champlain — The village of Champlain has marked the milestone of some improvements to Paquette Park.
The park, located on Main Street along the Great Chazy River, became the new location for a plaque and stone containing a time capsule assembled in 1938 to commemorate the founding of the village. The plaque and stone were located previously on the corner of Church and Main streets on property owned by Phillip Peyette, where the village offices were formerly located.
"Mr. Payette gave us permission to move the rock and plaque from his property, so our [Department of Public Works] crews moved it, took the plaque off the stone, shined it up and reattached it," said Mayor Gregory Martin.
The small, copper box time capsule that was found inside the stone was removed and will be kept in the village office for safekeeping until it is opened on its intended date of Aug. 20, 2038.
However, a few additions were made for the future unveiling of its contents. A copy of the program and speeches of the day, a 1938 postage stamp and coin, and a special edition of the North Countryman will accompany the time capsule opening ceremony 27 years from now.
"Some people wanted to open it now, but we've already waited 73 years. What's another 27?" said Martin.
Another focal point of the day's event was the arrival of the Jehudi Ashmun plaque and boulder, which was recently moved from the former Champlain Central School. Ashmun was born in Champlain in 1794, and after years of teaching became active in the American Colonization Society.
According to Celine R. Paquette, director of the Samuel de Champlain History Center and speaker at last Saturday's ceremony, the group was dedicated to returning freed slaves back to Africa. In 1822, Ashmun and his wife sailed to Liberia, and remained there for 6 years where he asserted a new, democratic form of government. He became known as the "Father of Liberia."
(Continued on Next Page)
Prev Next
Vote on this Story by clicking on the Icon