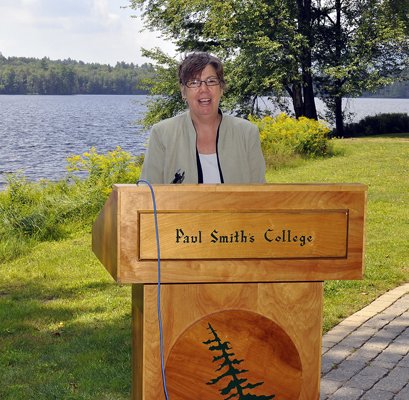 continued — "And I think what's really important is the specific impact," she said. "There will actually be hand-removal of zebra mussels from boats. And that's so important, because these water bodies do feed into the Great Lakes. The Great Lakes have one-fifth of the world's surface freshwater — which I always find amazing."
Dr. Eric Holmlund is director of the Watershed Stewardship Program. He says stewards have been working to educate the public about aquatic invasive species for 12 summers now.
Holmlund says recreational boaters are getting the message, but some resistance still occurs.
"Some people are less willing to want to stop and take these steps — they only take 5 or 10 minutes — but they want to be on their way and our stewards do have to be patient, but yet persistent, in raising awareness that this is something that somebody cares about and they should care about as well," he said.
College President Dr. John Mills says the grant will help the Watershed Institute expand and spread its message.
Mills notes that preventive efforts like this save money in the long run.
"It's cheaper to do prevention than it is to do remediation," he said.
"Once we get out there and we educate the public, we're actually going to be saving community dollars on having to attack this problem. Just look what was spent on Upper Saranac Lake when the milfoil invasion — it was over $1 million. Because it happened and it wasn't prevented. So if you're out there preventing, this kind of money has a return on its investment that the public as of yet probably doesn't really understand — and we'll be doing that."
Sean Magers is spokesman for North Country Congressman Bill Owens, who supported the grant award for Paul Smith's College.
Magers said that Owens is confident the money will be put to good use, adding that protecting watersheds helps the tourism economy in northern New York.
Vote on this Story by clicking on the Icon