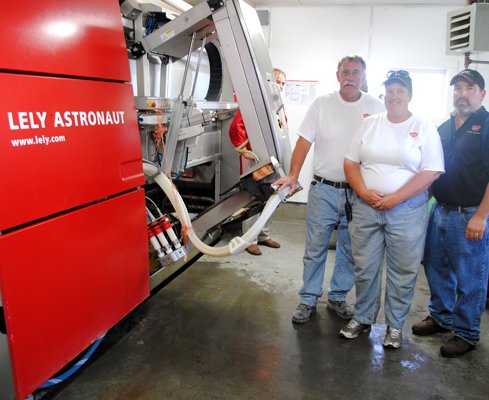 continued — Every cow has its own database, so the Lely Astronaut probably knows more about each individual cow than the farmer—and its electronic brain never forgets.
Robots on a dairy farm allow farmers, like Hall and Breen, to manage milk quality and cow health as well as respond if a problem or health issue appears.
"The Astronaut brushes remove dirt and manure, even if it sticks," said Paul Goden of Enosburg Falls, distributor of the Lely Astronaut in Vermont. "It is the only milking robot that cleans the teat area where teat cups can touch as well as the bottom udder close to the teat."
Goden said the tactile touch of the robot provide stimulation which is vital to the cow's release of the hormone oxytocin.
According to Orwell Fire Chief and Hall-Breen farm patriarch Louie Hall, 67, the robot workers never complain. And at a cost of $140,000 per unit, the cleanliness and efficiency of the robots will mean a quick return on investment.
"With the Lely Astronaut, there's no human intervention required," he said. "This is far better than a parlor-style milker. They are energy efficient and the computerized systems let us create a database on the herd."
For Hall's co-owner daughter Jennifer Breen, the savings mean not having to get up at 4 a.m. or even earlier every day.
"The robots do present a change for the farming lifestyle," Breen said. "I discovered I was able to leave the farm to see my child's school games. Before the robots, I just couldn't do that. You had to be on the farm around the clock to keep an eye on things. So, with the Lely Astronauts at work I get more time to spend with my husband and kids. In that sense, it's very revolutionary."
While area farmers gathered to see the Lely Astronauts in action, Goden's staffers served up free hot dogs, hamburgers, chips and—you guessed it—organic milk. They were onhand to answer questions, too, and educate curious farmers about the labor-saving units.
Currently, according to Goden, only a few farms in Vermont are taking the baby steps required to be a part of the farm-robot revolution—11 Lely milking robots work are quietly working at four farms in the state. Two more farms, one in Richmond and the other in Morrisville, will "go robot" soon.
Today's technological revolution may not be televised, but dairy farming in Vermont will never be the same.
Vote on this Story by clicking on the Icon