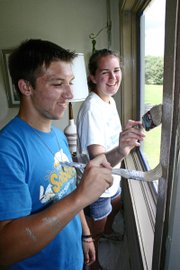 Warrensburg — Sister Connie Messitt of The Priory in Chestertown watched a dozen or so teenagers of the mission group YouthWorks painting trim in rooms of the sprawling building that serves as a retreat for people seeking spiritual renewal.
Weeks earlier, another dozen youths from the group had helped set up tents and arrange the thousands of items featured in The Priory's annual big Garage Sale event.
"It don't know hove we could have gotten all this work without their help," Messitt said, looking at walls in The Priory that had been painted earlier in the week. "They have such a wonderful spirit and energy."
For 11 weeks, a total of more than 700 teenagers from YouthWorks have been in northern Warren County working to fix up about 20 homes of the elderly as well as working on local municipal beautification projects for municipal and church entities.
YouthWorks, a Christian organization based in Minnesota, sends volunteers out to 76 mission sites across North America.
This is the fifth consecutive summer they've sent a series of mission trips to northern Warren County.
Their 2011 mission here, which came to a close recently, included a variety of projects.
The group has mended fences, repaired sagging porches, cleaned up overgrown yards, weeded gardens, and painted dozens of houses, both inside and out. Their work has been accomplished primarily in the towns of Warrensburg, Johnsburg, Stony Creek and Bolton, YouthWorks site leader David Kawatski said.
In years past, YouthWorks has built equipment and helped run the local Art & Nature Camp program in Johnsburg, renovated dugouts at the town ballfields, and spruced up church sanctuaries.
The Youthworks group has been based in Warrensburg, with the girls staying overnight in sleeping bags on the floors of classrooms at the First United Methodist Church, and the boys in similar accommodations at the Pentecostal Holiness Church. In their rare spare time, they were hiking, swimming, socializing and worshiping.
(Continued on Next Page)
Prev Next
Vote on this Story by clicking on the Icon