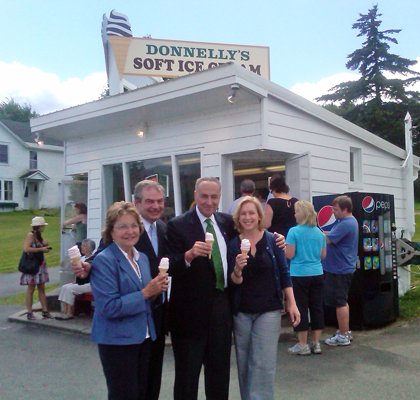 continued — Schumer said he and Gillibrand would do what the could to help grease the wheels, including appealing to Secretary of the Army John McHugh, a North Country native.
"The railroad thing seems very exciting. John McHugh always tries to help the North Country," Schumer said. "We worked closely together when he was in Congress and now Kirsten has taken his place on the armed services committee so we'll have a good chance."
But they acknowledged that it's getting tougher to secure money for local projects.
That's because of a Congressional moratorium on earmarks, the spending provisions that politicians traditionally tack on to federal bills for pet projects in their home states. Congress approved the moratorium earlier this year, but Schumer and Gillibrand came out against the ban.
Schumer said during the meeting in Long Lake that a complete ban on earmarks was the wrong approach.
"What an earmark is, is it allows us to designate money," Schumer said. "We know more about what the North Country needs than some bureaucrat in Washington."
The ban on earmarks means funding for local projects like expanding access to broadband and wireless Internet have been put on hold. And now lawmakers are appealing directly to state agencies to try to secure funding for projects.
During the discussion in Long Lake, several other "creative" ideas were floated by the senators, including volunteer-based strategies for extending broadband access to the homes of school-aged children.
In addition to being creative, many of the ideas that were discussed at the forum emphasized volunteerism and entrepreneurship, rather than reliance on government.
Vote on this Story by clicking on the Icon