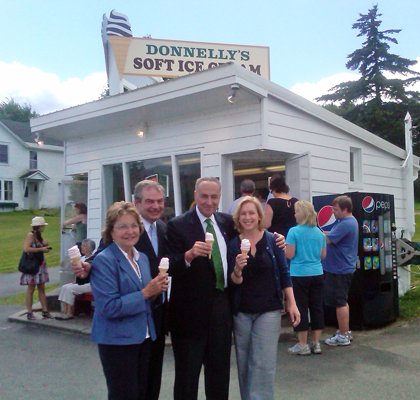 Long Lake — During a joint visit in Hamilton County late last week, U.S. Senators Charles Schumer and Kirsten Gillibrand spoke with community members and business leaders about the economic future of the North Country.
The two lawmakers hosted a roundtable discussion at the Long Lake Central School.
The general tone of the forum in Long Lake was upbeat, but urgent. Like other rural regions affected by the recession, the Adirondacks are feeling the pinch as federal and state dollars become scarcer.
The senators offered some advice for getting local economies on track – and their message was "get creative."
Garry Douglas is the executive director for the North Country Chamber of Commerce. He was among a small group that took part in an informal discussion with the senators.
Douglas said that improving passenger rail service is crucial to the economic future of the park.
"As we talk more in this nation about the need to green our transportation systems, we need to start preparing now to create alternate transportation modes," he said.
Douglas explained that refurbishing the Adirondack Scenic Railroad would help ensure "that the Adirondacks don't become, as they virtually are already, 100-percent dependent on oil driven trucks and cars winding in and out of the Adirondacks on two-lane highways. That's not sustainable going forward."
Douglas said the Adirondack Scenic Railroad, which extends from Utica to Lake Placid, is the last railroad that extends into the Central Adirondacks.
Douglas said he's working on a creative way to improve it; he's calling on the United States Army.
"The department of the Army has a railroad battalion that needs training missions," he said. "And they will select projects around the country and come in and rehab and upgrade rail lines. There has been an active conversation going on with them to explore the opportunity and find out if they might have an interest, and they do."
(Continued on Next Page)
Prev Next
Vote on this Story by clicking on the Icon