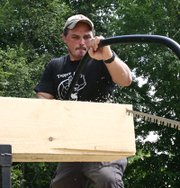 Stony Creek — Katrina Davenport swung her axe behind her back, grimaced and propelled it toward a block of wood standing in a vise.
As the axe tore into the wood, a chunk flew past her lean torso, 145 pounds of muscle in motion.
With one more violent swing, she chopped through the block, over a foot thick, to conclude the "Standing Block" event in the lumberjack competition held recently at Stony Creek Mountain Festival.
The crowd joined other competitors in cheering her feat as she gazed toward the announcer.
Beads of sweat ran down her face.
"The people here are amazing — there's a very genuine spirit, and everyone cheers for each other," she said.
A few years ago, Davenport, 21, was an all-star high school basketball player in her hometown of Honeoye. Her school's all-time leading scorer, she won a scholarship to a Division II school, but two years later, decided to devote her energies to woodsmen's competitions, she said.
"This sport keeps you on your toes and in shape," she said.
Minutes earlier, Tim Keech of Bloomfield edged out other competitors in the chain sawing contest.
His puny 1982 Homelite beat other hefty machines, including a saw powered by a motorcycle engine.
"My saw is a wolf in sheep's clothing," he said, noting much of the event's success is in the expertise in sharpening the chain.
Matthew Mark was one of Keech's competitors. In the "hot saw" competition, he was manhandling a huge chain saw powered by a 270cc Suzuki motorcycle engine. He was competing in 10 different events during the lumberjack competition, held Aug. 7.
"I love small shows like this, where you can interact a lot with the people," he said. Marks is president of the New York State Lumberjacks Association, which holds dozens of shows per year around the Northeastern U.S.
(Continued on Next Page)
Prev Next
Vote on this Story by clicking on the Icon