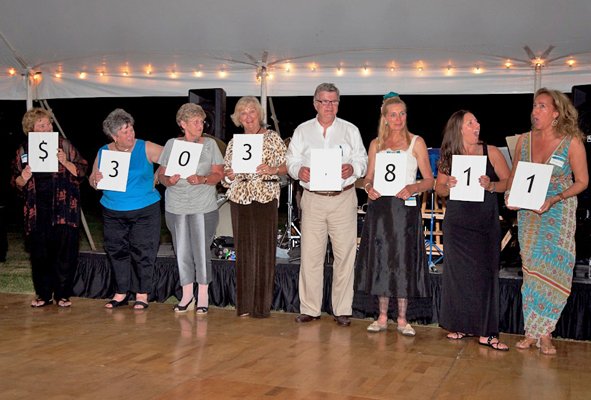 Ticonderoga — Fort Ticonderoga's annual appeal, The Fort Ticonderoga Fund, is off to a good start.
At the recent Fort Ticonderoga Mid-Summer Gala event, Sandy Morhouse, trustee and fund executive committee co-chair, announced the fund drive has commitments totaling $303,811 in hand. That amount has already been contributed by 100 percent participation of both the current board of trustees and the fort's senior staff.

It compares to a total of $96,327 that was in hand at a similar date last year, and it is more than 50 percent of the fund's $600,000 goal this year.

The news was greeted by loud applause from the audience.

Morhouse concluded his remarks by offering, "We are off to the races with a wonderful early lead, but a lot of the track still lies ahead. We continue to count on everyone responding as generously as they can to help us serve Fort Ticonderoga's mission."
Within the next several weeks, a local solicitor committee of "fort-ifiers" will be personally contacting a large number of prior year donors. Fort Ticonderoga will also be mailing a specially designed appeal piece to its larger community.

Board President Peter Paine commented, "Our trustees have set an example that I hope everyone in our community will take to heart. In doing so, they will join us in ensuring that the fund sets a new record by Dec. 31. That will result in ensuring Fort Ticonderoga's financial stability and, in turn, help make it an ever more important and meaningful part of our community."
The Fort Ticonderoga Association is a private not-for-profit organization which serves its mission to ensure that present and future generations learn from the struggles, sacrifices and victories that shaped the nations of North America and changed world history. It serves this mission by preserving and enhancing its historic structures, collections, gardens and landscapes; and educating the public as it learns about the history of Fort Ticonderoga.
Open to the public since 1909, Fort Ticonderoga is the earliest restoration of its kind in the United States. It preserves North America's largest 18th-century artillery collection, 2,000 acres of historic landscape on Lake Champlain and Carillon Battlefield, the largest series of untouched 18th-century earthworks surviving in North America.

Fort Ticonderoga engages more than 71,000 visitors each year and annually reaches nearly 5,000 people in outreach programs. Fort Ticonderoga is accredited by the American Association of Museums and pursues its vision to be the premier military historic site and museum in North America.
Vote on this Story by clicking on the Icon