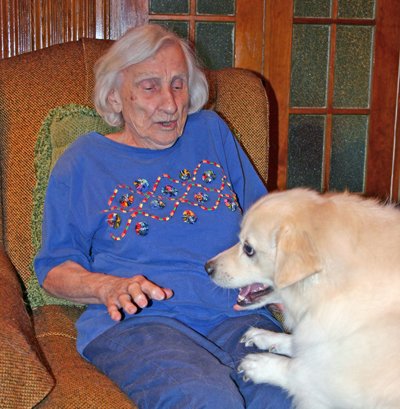 continued — Schuyler deferred the credit.
"I taught them, but they taught me a lot — it went both ways," she said with a smile.
After her tenure in Peru, Schuyler returned to Scotia, NY to care for her father, after which she served on the faculty of Fulton-Montgomery Community College in Amsterdam. Later, her service to the church took her to Florida. There, she was a director of a church home, coordinated religious education at a Catholic School, and taught Theology and English at a school for unwed mothers. From 1983 to 1986, she ministered to Hispanic migrants. From 1986 to 1990, she taught general education to prison inmates in Florida. The following year, Schuyler taught a similar subject at a community college nearby. From 1991 to 1996, she worked as a teacher or as a human services worker in a variety of positions.
In 2000, she arrived at St. Cecilia's in Warrensburg, where she has been a volunteer, cook and housekeeper, spiritual counselor and prayer witness ever since.
As Hogan watched the 99-year-old walk briskly through the rectory kitchen, she said Schuyler has enjoyed a healthy lifestyle.
"Sister Catherine's in excellent health, and she's got really strong bones," Hogan said, noting that Schuyler's bedroom is on the rectory's second floor, and she scales the stairs regularly with considerable ease.
In 1996, Schuyler climbed a mountain in Pack Forest, accompanied by Warren County Sheriff Bud York, she said.
"I owe my good health to miles and miles of walking," Sister Catherine said.
In 1989, she hiked to the top of Hackensack Mountain, a feat she might attempt again in several weeks after she gets her 100th birthday behind her, Hogan said.
"She's a vibrant woman with a keen sense of humor," Hogan added.
Schuyler also enjoys politics — so much that she often skips Mass for the Sunday morning political talk shows on television, Hogan said. An avid supporter of Barack Obama, Schuyler had a heart attack not long before the 2008 election. In the emergency room, hours after regaining consciousness, Schuyler was campaigning ardently for Obama, she recalled this week.
Vote on this Story by clicking on the Icon