Westport — While determining a design for the new Lake Champlain Bridge, Theodore "Ted" Zoli, vice president and technical director for HNTB Corp., hoped to re-illustrate the pre-existing bridge with a long-lasting, modern design.
"I think it's a modern looking design that tends to be safer and has a longer durability than the bridge it replaced," Zoli said.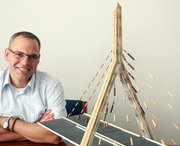 The Lake Champlain Bridge lasted 80 years before it was declared unsafe by the department of transportation in 2009.
Zoli graduated from Princeton University. He received a MacArthur Fellowship, commonly referred to as the "genius award" for his work. Zoli, who said he competed along side other engineers for the project, was chosen as the lead engineer for his concept of the Modified Tied Arch design . The design was agreed upon out of six options by both the Vermont and New York State public.
Zoli said one of the reasons he solicited the bridge project was because of his local ties to the area.
"I've been up and down the Adirondack Park," he said. "I've spent a lot of my life there."
Zoli was born in Schroon Lake in 1965. He attended Camp Dudley in Westport as a kid. In 1969 he moved to the Glens Falls area. Zoli worked with his dad in upstate New York on engineering jobs such as heavy road construction.
A bridge a cross Lake Champlain had a visual opportunity along with a strong presence in the region, which had contributed to his interest in the project, he said.
Zoli said, growing up, he was always interested in the process of structural engineering. He said any bridge not only has to be clear to the eye but they have a lot to live up to in terms of efficiency
"Bridges are possibly the most pure structure of engineering there is," he said. "A bridge's structural system is always on display. Your pushing structural systems to stand longer with less materials."
Ted Zoli will be speaking at Camp Dudley on Sunday, Aug. 21, at 1 p.m. in the Witherbee Hall. Zoli designed the Champlain Bridge currently being constructed in Crown Point and is a Camp Dudley alumni
(Continued on Next Page)
Prev Next
Vote on this Story by clicking on the Icon