Over the course of my career as a guide and angler, I have had numerous opportunities to witness some strange catches.
As can be expected, I've seen a fair number of old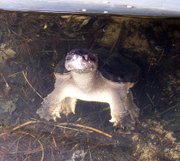 boots and shoes, dragged up from the depths. I've also caught a wide assortment of other unexpected items, including a toaster, a transistor radio and leather wrapped, steering wheel.
I've caught a bat, or it caught me, while I was flyfishing at night. I even caught, and released, a dragonfly that had picked up my dry fly.
However, when a young guest recently caught a whopper of a tail, it topped my list of angling oddities.
It happened on a local pond, as we were about to quit after a long, slow day of bass fishing. In a last ditch effort; I decided to have the youngster troll a Hula Popper behind the canoe, on a long line.
He followed my instructions, and unspooled about 50 yards of line, and gleefully giggled every time he would chug the popper. He was content just to yank the line, and watch the splash and hear the pop of the plug. Fish or no fish, he was having fun!
But, as we neared the shore, his lure disappeared. There was no splash, no slash, no noise, or any other type of commotion. It appeared that the lure has simply sunk below the surface.
The youngster yanked on the rod, to set the hook, and nothing happened. His line was taunt, but it did not appear to be a bass.
I turned the canoe around, and paddled back to see what he had snagged on. However, as he reeled in line, there was no fish fighting to get free. In fact, it appeared he had snagged a sunken log.
As we got closer, I picked up his line, and gently pulled the catch to the boat. Hand over hand, as I gathered in his line; I could see the yellow Hula Popper coming up from the depths.
(Continued on Next Page)
Prev Next
Vote on this Story by clicking on the Icon
More like this story