Warrensburg — The art of barbering has a long and colorful history In northern Warren County, and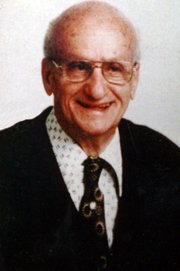 Joseph F. DeMatties exemplifies that heritage well.
Some have said DeMatties, when he retired in 2000 at the age of 90, was perhaps the oldest continuously practicing barber in the U.S.
Known affectionately as "Joe the Barber," DeMatties pursued the trade for nearly 80 years, most of that time practicing his art in Warrensburg, Chestertown and Lake George.
DeMatties, son of Italian immigrants, was born in 1911 in Rome, N.Y.
By the age of 15, he started work in a local barber shop — back in the era when barbers had to have a knowledge of anatomy and bodily systems, as well as perform bloodletting as needed.
He learned the barbering trade and other para-medical knowledge while he was assisting barbers at a local shop, where he was awarded his first barber's license.
When DeMatties was only 16, he acquired his own barber shop in Binghamton, but returned soon after to his hometown.
When he was 18, DeMatties joined the Navy and served as a barber on the USS Detroit. Discharged in 1931, Joe returned to Rome.
Not long afterwards, DeMatties — seeking adventure in his life — moved to the Adirondacks. He landed in Keene and pursued his trade, and when his boss wanted to open a shop in Chestertown, he moved there.
It was in Andy Campanaro's barber shop in Chestertown that DeMatties met his wife Eulah G Harvey, who frequented the shop for a "wash and cut." They were married in 1933, and had seven children.
During World War II, DeMatties served again in the Navy — from 1943-1944.
From 1944 through 1955, DeMatties continued his barbering career at various locations in Warrensburg, including at the Oddfellows Hall — now housing the Warrensburgh Museum — and 1 River St. across from the former Herrick's Store, and in the Levine Block, once located in the parking lot between New Way Lunch and the Museum.
(Continued on Next Page)
Prev Next
Vote on this Story by clicking on the Icon