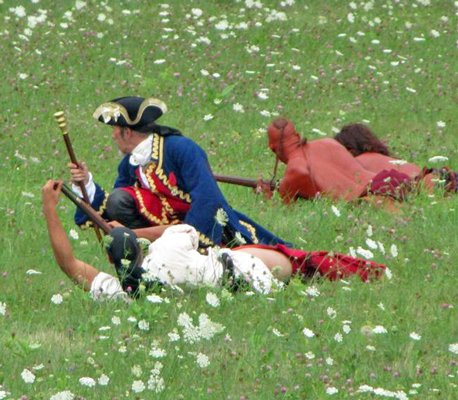 Crown Point — Battles will once again be fought on the grounds of the Crown Point State Historic Site during a British, French and Indian War encampment Aug. 13 and 14.
Between 250 and 450 re-enactors are expected to converge on the site where the French and English once occupied a fortress on a picturesque plateau jutting into Lake Champlain.
Site Manager Tom Hughes said two tactical weapons demonstrations are scheduled for the public to view during the encampment weekend. These "battles" will take place between 1:30 and 2 p.m. on both Saturday and Sunday. The re-enactors plan to break camp at 3 p.m. Sunday afternoon.
Hughes said the reenactment, which has taken place on the historic site grounds for more than 15 years, is unique in that the re-enactors are not limited to one particular battle, since no large scale battles were fought at Crown Point in the 1700s.
"It allows us to change it up every year, so neither the audience or the combatants know what to expect," Hughes said. "Troops actually take orders right on the field, so no one knows who's going to win."
Hughes said "several hundred" spectators turn out to watch the battles, with re-enactors in period dress firing muskets of the era. The use of artillery and amphibious invasion (attack by water) is also encouraged, Hughes said.
"We've got great terrain here. re-enactors love the location which is surrounded on three sides by water. This weekend is a huge hit with the public," Hughes said.
Hughes said guests to the encampment will be able to see, hear, walk among, and interact with the many volunteers who will spend the weekend portraying the various people of Crown Point's past.

"Visitors will definitely want to bring a camera," he noted.
Sutlers (vendors) will show and sell their replica 18th century wares all weekend, rain or shine. Frenchman's Restaurant staff will cook on-site, selling sandwich lunches to guests, such as hot dogs, chicken breast, and their new specialty: "Crown Point Barbecue" pulled pork. Crown Point Bread Company will sell locally-baked gourmet goods inside a festive tent beside a replica bake oven.
(Continued on Next Page)
Prev Next
Vote on this Story by clicking on the Icon