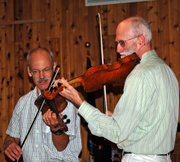 Blue Mountain Lake — The Adirondack Museum Aug. 4 honored Jerry Jenkins for his many contributions to the Adirondack Park — as a botanist, naturalist, geographer and author — by awarding him the annual Harold K. Hochschild Award.
Since 1990, the award — named after the museum's founder — has been reserved for community leaders who advance the region's culture and quality of life. A host of guest speakers at the award ceremony testified how Jenkins fits this role and why he deserves the award.
"What Jerry has accomplished was to put the Adirondacks on the global map," said Timothy Barnett, vice president of the Adirondack Nature Conservancy.
Jenkins is an ecologist with the Wildlife Conservation Society's (WCS) Adirondack Program, based in Saranac Lake. He has almost 40 years of field experience working in the Northern Forest, including mountain landscapes in New York, Vermont and Maine.
"The Adirondacks are filled with Ayatollahs and icons, and Jerry certainly fits the icon version," Barnett said, adding that he's had the privilege of knowing all kinds of visionary icons in the Adirondack conservationist movement, such as Clarence Petty, Greenleaf "Greenie" Chase and Ed Ketchledge.
"The difference is that Jerry is a universal man," Barnett said. "Jerry Jenkins has made the biology of the Adirondacks available to the Northeast, the country, the world. And that has been an incredible contribution."
Over the course of his career, Jenkins has conducted biological inventories for The Adirondack Chapter of the Nature Conservancy, chronicled the environmental history of acid rain with the Adirondack Lakes Survey Corporation, and interpreted historical changes to boreal lowland areas in the Adirondacks with WCS.
Jenkins first arrived in the Adirondack Park in 1982, when the Adirondack Park Agency hired him to complete a biological survey of Spring Pond Bog near Tupper Lake. At the time, it was on private land and there was a proposal to harvest sphagnum moss from the bog. Thanks, in part, to his work, the Adirondack Nature Conservancy now protects the land.
(Continued on Next Page)
Prev Next
Vote on this Story by clicking on the Icon