The Rutland County Humane Society (RCHS) is partnering with Vermont Companion Animal Neutering (Vt.-CAN) to get Rutland County cats spayed and neutered. Vt.-CAN, a low cost spay/neuter clinic located in Middlesex is a long drive from Rutland County.

To help, RCHS and Vt.-CAN are working together to mak
Photo Gallery
Pets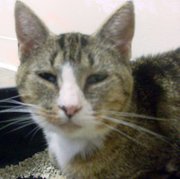 e it easier for cat owners. By dropping your cat at one of three locations, volunteers will transport your cat to Vt.-CAN where he or she will be spayed or neutered and given a rabies shot, and returned to RCHS later that day.

The drop off/pick up locations are Shaw's Supermarket in Fair Haven, 6 a.m. and 6:30 p.m., Rutland WalMart parking lot, 6 a.m., and 6:30 p.m., or the RCHS shelter, 7 a.m. and 5:30 p.m.

The next available dates are Aug. 17, Sept. 14 and Oct. 19.

Prior registration is required and Vt.-CAN fees for services apply. To register please call RCHS at 802-483-6700. For more information visit www.rchsvt.org or for more information about Vt.-CAN visit www.vt-can.org.
JOEY
Three year old. Neutered male. English Setter/Springer Spaniel mix.
Sweet, adorable and lovely are words to describe me—I am pal Joey. I have great black "patches" around my eyes and I'm super handsome. I look mysterious in a fun way. I have a stub tail and terrific black markings all over my primarily white fur. Some general manners training and teaching of tricks would be fun for me. I enjoy being with people and will make a great companion to my new family.
WAGS
Seven months old. Spayed female. Beagle.
I'm an adorable gal who loves to play with toys. I'm very fond of squeaky toys and I like to fetch. I also know how to Sit. 'm used to sleeping in a crate which will be helpful for housetraining. I'm initially cautious with new people and things and I've been under socialized so I am looking for an owner who will be dedicated to introducing me to the world in a positive way. I'm a young lady with a few things that need some attention but I think with socialization and work I can come a long way.
(Continued on Next Page)
Prev Next
Vote on this Story by clicking on the Icon