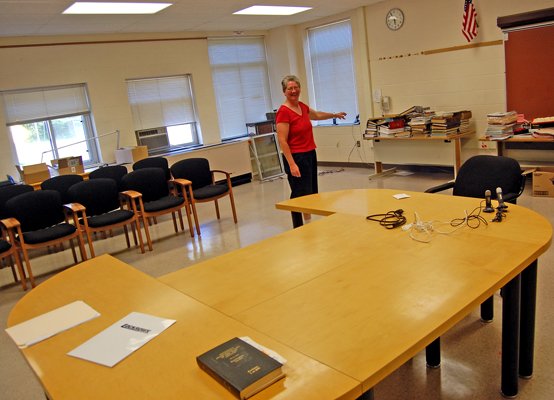 Dannemora — The wait is over. Well, almost.
The village of Dannemora municipal offices have moved from their former location at 121 Emmons St. down the road to the former Dannemora Elementary School building at 40 Emmons St. The move, approved in January, has been a long process, said Mayor Michael Bennett.
"It's a little overwhelming," Bennett said. "It's taken a lot more time than we thought it would just to clear the building."
The 22,363 sq. ft. building, which rests on 7.1 acres, contained several rooms of items left behind by the Saranac Central School District, including desks, chairs, projectors and lunch room tables. Organizing the contents, said Bennett, has been half the battle.
"We've cleared out a lot of the rooms and have about three rooms full," said the mayor, adding the building's gymnasium, which will be used by the village youth commission, is about half-full of the leftover contents. "Now, we're just waiting on proposals from auctioneers to put it all out to bid."
The money that Bennett anticipates will be generated from selling the leftover contents will help pay down the 30-year bond the village took out to cover the $350,000 cost of purchasing the property and any other associated costs with renovating the old school building.
In the meantime, the offices of the mayor and the village historian, code enforcement officer, constable, parking enforcement officer, clerk, deputy clerk and justices have been relocated to the new building. The relocation of the Dannemora Free Library and Saranac Cooperative Nursery School as well as creation of space for a senior citizens center and exercise room for the village fire department is also in the process of being complete, said Bennett.
"We've also made contact with the New York State Police that we've fixed up two rooms for them," said the mayor, noting plans for the building have included room for the state police to relocate from their barracks on the other end of Emmons Street. "They're just waiting on final approval from Albany."
(Continued on Next Page)
Prev Next
Vote on this Story by clicking on the Icon