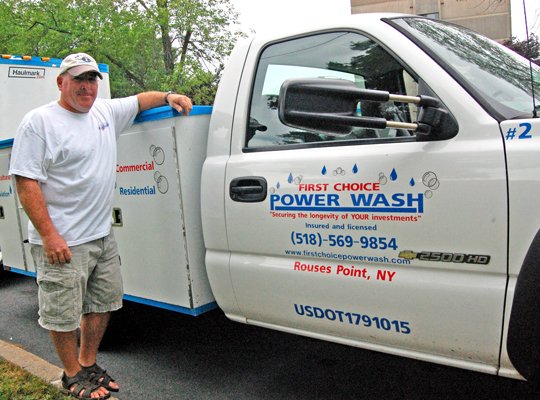 Rouses Point — Cliff Sterling prides himself on his attention to detail. It's a trait he picked up during his 17-year career in the Vermont Air National Guard.
"It's something they taught me and it's something that's stuck with me," Sterling said.
That particular quality is something he's carried into his business, First Choice Power Wash. Sterling started the pressure-washing business in 2006, drawing on his experience cleaning military equipment while stationed in Iraq. Little did he know First Choice Power Wash would grow into the full-time business it is today.
"I came home, started it part-time and it just took off," Sterling said. "And, here we are, five years later. I just thought this would be a part-time job I could do to work toward retirement. Now, it's a booming business."
First Choice Power Wash handles a variety of customers, said Sterling, including residential, commercial, agricultural and even aviation.
"We even take care of the Vermont Air National Guard's F-16s and the planes at the museum at Camp Johnson [in Vermont]," he said.
Sterling's business seasons really begins to pick up in the beginning of April, with many homeowners wanting to clear off the dirt and grime that accrues over the winter months. Restaurant owners also find spring to be a good time to break down their equipment and have it cleaned — a service First Choice Power Wash can do as well.
"We've cleaned a lot of restaurant hoods, getting out all the grease and making them look new again," said Sterling. "We even clean farm equipment like manure spreaders, barns. You name it. If it's dirty, we'll clean it."
As summer winds down, Sterling said he is seeing many homeowners looking to get their homes spruced up before the snow falls. It's a growing business with growing demand, he said.
(Continued on Next Page)
Prev Next
Vote on this Story by clicking on the Icon