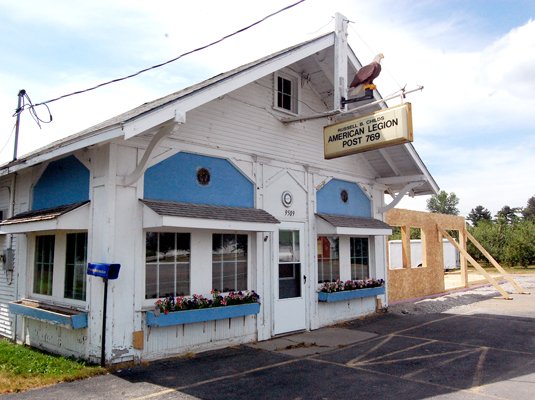 Chazy — The look of American Legion Post 769 is changing.
The membership of the local post has joined with the owners of Giroux Poultry Farm, who own the State Route 9 building, in giving the 80-year-old structure its first major upgrade.
Robert Wallace, the post's building committee chair, said the project was something first discussed a year ago after the property on which the building stands was purchased from Chazy Orchards by Giroux Poultry.
"The building was just cobbled together over the years," Wallace said. "There were certain areas in the building that were just rotting away. Everything was built right on the ground, so there was no foundation. The wiring was horrible and the plumbing was getting bad."
"We knew we had to do something with [the building] or move to another location," he added.
The plans agreed upon between post members and the property's new owners, Wallace explained, called for the demolition of a portion of the existing building, which was completed earlier this summer. Construction has since begun on a 42 ft. by 34 ft. addition that, once completed, will house a large multi-purpose room that will be a place for post members and the community to gather.
"It's going to be a really nice facility when we're finished — one we can rent out for different functions to raise money for the post," said Wallace.
The project will also include the construction of two new handicap-accessible bathrooms, as well as an upgrade of the post's electrical wiring and plumbing and improvements to its existing kitchen. Eventually, post members would like to construct a deck or patio off the new addition.
The overall price tag of the work to be done is estimated at approximately $20,000, with the cost being shared by the post and Giroux Poultry, said Wallace.
(Continued on Next Page)
Prev Next
Vote on this Story by clicking on the Icon