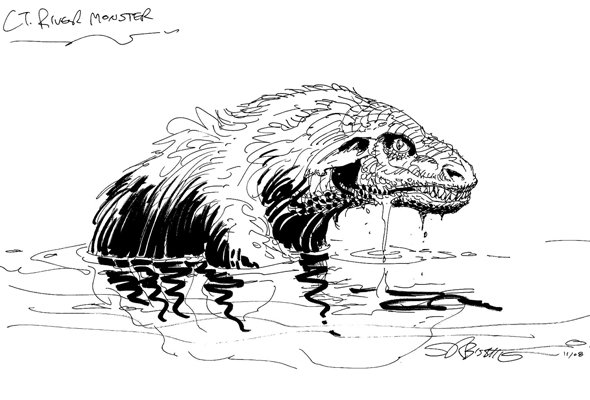 Springfield — Loch Ness has her Nessie, Lake Champlain has her Champ, Lake Mephremegog has her Memphre and the Connecticut River—well, the sting of it is that she has her monster, it just hasn't been named yet.
The Connecticut River, which divides Vermont and New Hampshire, does have a monster (or monsters), that is, if you can believe press stories from numerous historical sources including the New York Times.
One of the earliest reports comes from the History of Lordship in 1878 when an assistant engineer on the steamer State of New York said that he witnessed the head of a monster raised several feet above the waves. The head disappeared and a portion of the body formed an arc "under which it would have been easy to drive a team of oxen."
In 1881, soon after the Lordship incident, according to the New York Times, the yacht A.M. Bliss was returning from a fishing cruise when the passengers saw a veritable sea serpent moving slowly along the surface of the calm water.
An 1886 New York Times article from Middletown, Conn., reported that, "all along the banks of the Connecticut River people eagerly watched for a glimpse of the great sea serpent." According to the story: "Out of the froth rose a big black head as large as a flour barrel and with eyes as big as small plates. The head kept rising higher and higher until 10 feet of the neck appeared. The men didn't stop to make a long or thorough examination, but they feel sure that the sea serpent must have been a clear hundred feet long."
The Hartford Haunted Places Examiner recounted a story from 1894 when Austin Rice of East Deerfield... "a plain unimaginative farmer, who for nearly fifty of the seventy years of his life has resided in his quiet home on the banks of the Connecticut River, says that nothing on earth can convince him that he did not see a snake in the river a few days ago. The report noted that, "Mr. Rice's reputation for veracity among his neighbors and acquaintances is good, and he never drinks."
(Continued on Next Page)
Prev Next
Vote on this Story by clicking on the Icon