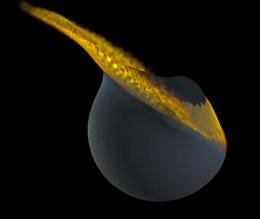 A new theory about a second moon that orbited Earth billions of years ago has been proposed by Erik Asphaug of the University of California, Santa Cruz, and Martin Jutzi of the University of Berne. The research team describe the unusual theory in a paper just published in the scientific journal Nature.
Asphaug and Jutzi posit that the Earth once had two moons. The second, smaller moon eventually smashed into the Moon we know today after it slowly caught up with, and overtook, it on an shared orbital path.
"The Earth might have been circled by the two moons in the same orbit until a slow-motion collision that merged the larger object with a sister satellite one-thirtieth its mass more than four billion years ago, which created a lunar body that we see today," Asphaug said.
At U.C. Santa Cruz, Asphaug specializes in the use of "hydrocoding" to model planetary collisions on a computer.
While a complex technique to explain, hydrocoding is essentially a computer programming technique that models the behavior of molten fluids. The technique breaks down fluids being studied into a 3-D matrix of cells; it then calculates the various forces—such as gravity—that affect them in outer space.
Asphaug's and Jutzi's hydrocoding simulations produced one very interesting effect that got their attention—that was the creation of a second moon immediately after the Earth's prime Moon was created by a Mars-sized impactor billions of years ago. The simulation data so intrigued Asphaug and Jutzi that they decide d to propose a theory to explain some of the differences between the Moon's near- and farside surface appearances.
"Because planetary collisions occur far beyond the scale of any experimental laboratory, we resort to such simulations to research this complex family of processes," Asphaug said. "For example, numerical experiments revealed the process of hit-and-run collisions, and the results of those simulations are now being connected to meteorite evidence from the first few million years of solar system history."
(Continued on Next Page)
Prev Next
Vote on this Story by clicking on the Icon