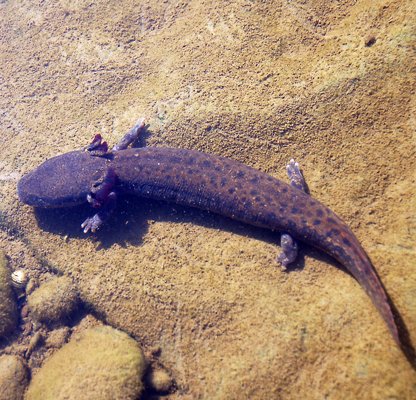 continued — Andrews said a group of reptile and amphibian scientists acting as a neutral advisory group have already recommended a "threatened" listing; this decision may affect committee members' voting.
Regardless of the outcome, the long-term future survival of the mudpuppy in the Champlain basin does not look promising.
Some scientists believe that lamprey pesticide might have already wiped out the Lewis Creek mudpuppy population and reduced their numbers in other rivers. So far, this year, no mudpuppies have been found alive in Lewis Creek.
Andrews said female mudpuppies have declined sharply already in the Lamoille River, another river treated with lamprey pesticide; it was doubtful this population could withstand repeated treatments, he noted.
The Vermont Agency of Natural Resources has the final say about the mudpuppy's classification as an endangered species or not.
According to VANR spokeswoman Ginny Colburn, "No action has been taken as of Aug. 5."
The final decision, to be made by VANR Secretary Deb Markowitz, may come sometime this summer or fall.
Mudpuppy facts
• Family: Proteidae
• Genus: Necturus (several species are native to North America). The genus has ancestral roots dating back 200 million years.
• Lifestyle: Mudpuppies prefer shallow lakes and streams that have slow moving water and rocks to hide under, but they can live in up to 90 feet of water.
• Diet: small fish and invertebrates, including crayfish, snails, and worms.
• Lifecycle: Mudpuppies mature at four to six years and can live to be more than 20 years old. Progenesis is common for mudpuppies, enabling them to reach sexual maturity in their larval stage.
• Environment: Mudpuppies live underwater. Adult gills resemble fish gills. Red exposed gills are closed in highly oxygenated water. In warmer, poorly oxygenated water, the gills expand.
Source: VANR and Wikipedia
Vote on this Story by clicking on the Icon