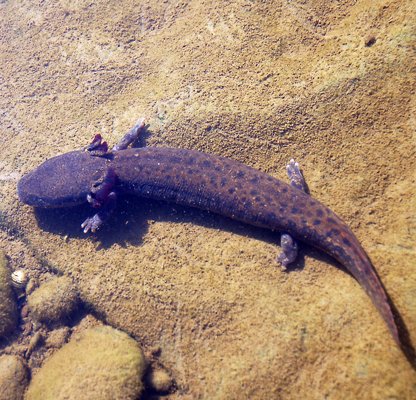 Middlebury — The prehistoric-looking mudpuppy, which has ancestral roots dating back to the Triassic Period over 200 million years ago, may soon be classified as an endangered species in Vermont.
The harmless salamander is a bottom feeder with a diet that consists primarily of insects. It grows up to 12 inches or more in length.
"The mudpuppy should be listed," said Salisbury resident Jim Andrews, a herpetologist and chairman of the panel of biologists that advises the Vermont Endangered Species Committee.
"I think most Vermonters value wildlife and would like to see us maintain the full spectrum of biodiversity that we have," Andrews said.
It is the second time in ten years that the Vermont Endangered Species Committee is considering recommending the salamander to the state's threatened species list.
Two other native species, the common nighthawk and the tri-colored bat, are classified as endangered currently.
The mudpuppy, not unexpectedly, is provoking debate among legislators, biologists, environmentalists, and anglers.
Fish and Wildlife Commissioner Patrick Berry, a member of the Vermont Endangered Species Committee, did not agree completely with Andrews regarding the mudpuppy's endangered status.
Berry said he was "not comfortable that we have the appropriate amount of data to warrant a listing (as an endangered species)."
Mudpuppies have suffered in recent years as Vermont works to eradicate an infestation of non-native sea lamprey. A powerful chemical used to kill lampreys in Lake Champlain's feeder streams also impacts the mudpuppy.
"The state and federal governments are committed to killing lamprey by applying pesticides to rivers in the Champlain basin where they spend their early years," according to Berry.
But mudpuppies die as a result.
Anglers are also worried that if the mudpuppy is ultimately protected, treatment of feeder streams to kill lampreys will stop. Lampreys have devastated some lake fish populations. The ripple effect—while good for the long-term survival of the mudpuppy—will impact the local recreational fishing industry.
(Continued on Next Page)
Prev Next
Vote on this Story by clicking on the Icon